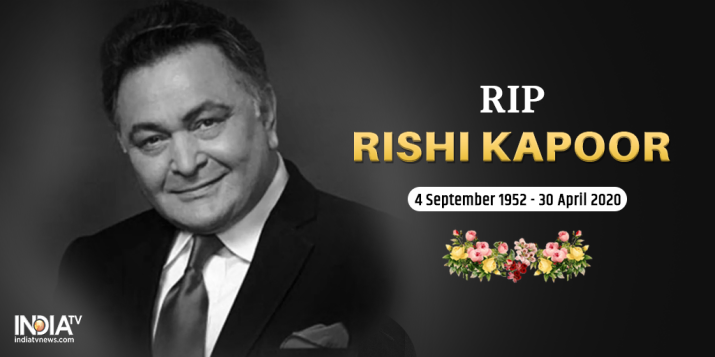 Rishi Kapoor dies in Mumbai
He made it big, that's why he's called a legend. Rishi Kapoor, 67, entertained till the very end. He passed away in Mumbai this morning, he was admitted to Sir H N Reliance Foundation Hospital. He is survived by his wife Neetu Kapoor, son Ranbir and daughter Riddhima. The veteran actor had returned to India in September 2019 after almost a year-long cancer treatment in New York.
Kapoor family issued an official statement on his death which read, "Our dear Rishi Kapoor passed away peacefully at 8:45am IST in hospital today after a two-year battle with leukemia. The doctors and medical staff at the hospital said he kept them entertained to the last. He remained jovial and determined to live to the fullest right through two years of treatment across two continents. Family, friends, food and films remained his focus and everyone who met him during this time was amazed at how he did not let his illness get the better of him."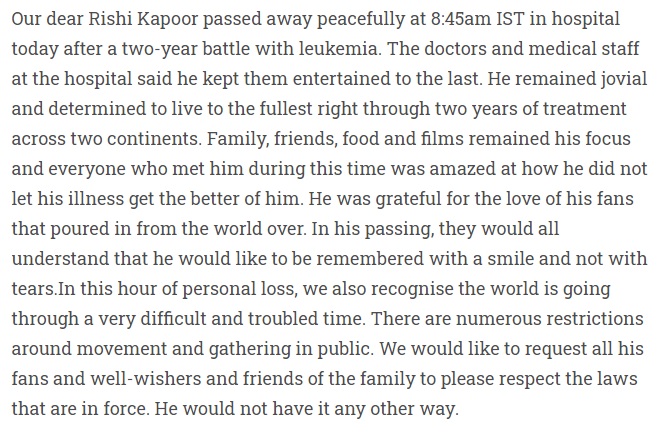 Further, it read, "He was grateful for the love of his fans that poured in from the world over. In his passing, they would all understand that he would like to be remembered with a smile and not with tears. In this hour of personal loss, we also recognise the world is going through a very difficult and troubled time. There are numerous restrictions around movement and gathering in public. We would like to request all his fans and well-wishers and friends of the family to please respect the laws that are in force. He would not have it any other way."
The actor was diagnosed with cancer in 2018 and underwent a marrow treatment and recovery that lasted almost one year.
A shocked Amitabh Bachchan tweeted, "He's GONE .. ! Rishi Kapoor .. gone .. just passed away .. I am destroyed !"
Confirming to India TV last evening, Randhir Kapoor said, "Rishi had breathing problem so we had to admit him. We all were there but now he is doing better. He is sleeping now so doctor asked us to go home. He is my brother…hoping ki sab thik ho jayega. Neetu is by his side."
Rishi Kapoor's funeral held at Mumbai's Chandanwadi crematorium
Rishi Kapoor's last rites were performed at Chandanwadi crematorium in Kalbadevi on Thursday afternoon between 4-5 pm. The mortal remains of the actor were taken from the hospital to the cremation ground directly. His daughter Riddhima Kapoor Sahni who stays in Delhi was given a movement pass by the Delhi Police to attend the funeral. She will be joining mother Neetu Kapoor in Mumbai along with four other family members including her husband Bharat Sahni and daughter Samaira. It is expected that Riddhima will reach by 6 pm. Rishi Kapoor's family members and close friends Ranbir Kapoor, Alia Bhatt, Kareena Kapoor Khan, Saif Ali Khan, Rajeev Kapoor, Randhir Kapoor, Abhishek Bachchan among others joined Neetu Kapoor at the Chandanwadi crematorium to pay their last respects.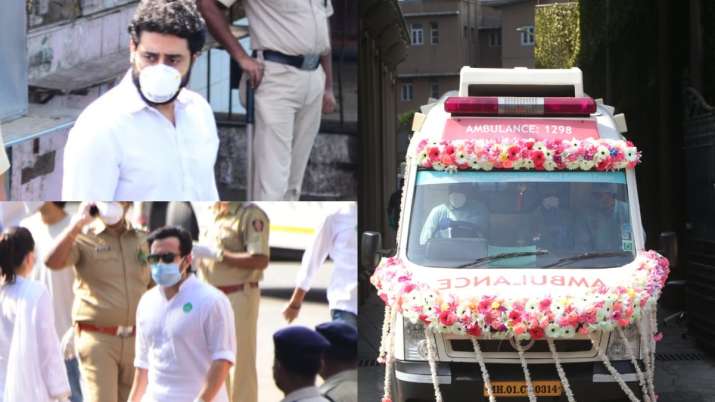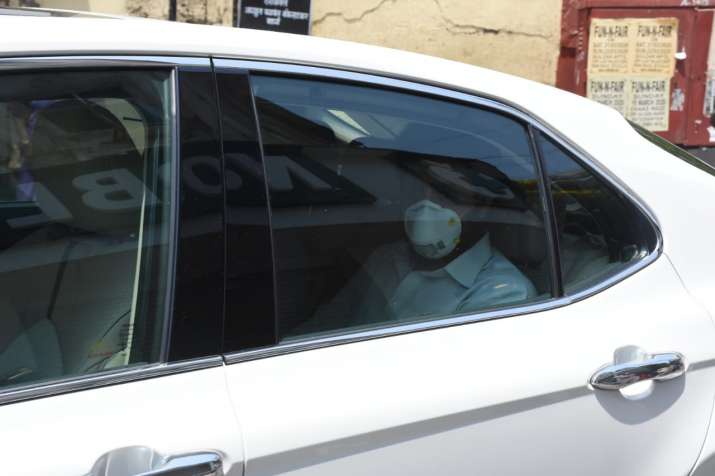 Wife Neetu Kapoor's Statement on Rishi Kapoor's Death
Neetu Kapoor shared a post on social media and wrote, "Our dear Rishi Kapoor passed away peacefully at 8:45am IST in hospital today after a two-year battle with leukemia. The doctors and medical staff at the hospital said he kept them entertained to the last. "
Daughter Riddhima Kapoor Sahni's heartfelt post for father Rishi Kapoor
Sharing a selfie with Rishi Kapoor, daughter Riddhima Kapoor Sahni penned down a heartfelt post for her father. She wrote, "Papa I love you I will always love you – RIP my strongest warrior I will miss you everyday I will miss your FaceTime calls everyday! Until we meet again papa I love you – your Mushk forever"
Fight against Coronavirus: Full coverage